Pristine. Picturesque.
Tofino Wilderness Resort.
Tofino Wilderness Resort welcomes adventurers, explorers, and eco-tourists: all who seek the expedition of a lifetime. Featuring sixteen private guest rooms, a shoreline spa, an enchanting cedar longhouse, and a luxury restaurant, our floating oasis has all the creature comforts alongside the stunning west coast scenery. With access to trails, lakes, pristine forests and seaside beauty, the lodge is a refuge for all who long to connect with the natural world.

AMENITIES
Our Lodge is designed for the best of both worlds: adventure and relaxation!
With a hot tub, gift shop, and business/communications office with internet access and printer (we know sometimes you need to connect with the outside) your comfort is our priority. We even have a dry fitting room for wet weather excursions, with slickers, boots, wool hats and gloves available.
Enjoy our beautifully decorated lounge; recharge and relax with a cocktail or beer at our bar. All vacation packages include meals at our in-house restaurant overlooking picturesque Quait Bay. Our chef serves seasonal West Coast cuisine with locally sourced ingredients–fresh fare at its best!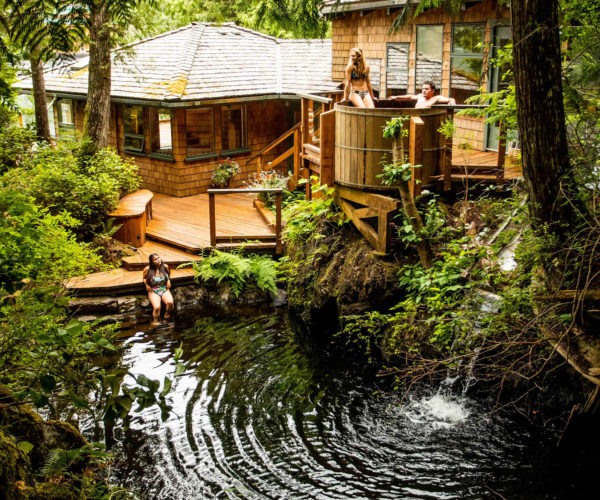 ACCOMMODATION
16 private guest rooms are available for your luxurious adventure retreat. Wake up to the bounty of Quait Bay: mountains, bird life, sea creatures and impossibly fresh air kick-start your morning.
We offer king sized rooms as well as two twin bed rooms. Each room has a beautiful water view (or forest and water) along with a private three-piece bathroom with a shower. All rooms have open access to the surrounding decks of the resort. The lodge and all rooms are no smoking.
An amble around the grounds will establish plenty of spaces for contemplation. Hammocks tucked into trees allow for swing time, pull up a deck-side chair and watch wildlife from the dock. There's even a "chair on the point" for you to claim; a book and a glass of wine makes it the perfect retreat from it all.
Dining
Delicious West Coast Cuisine
During the seasons, our culinary team source ingredients at their peak through local suppliers. From small farms to sustainable shellfish & seafood operations, we strive to build healthy relationships with honest farmers who are passionate about what they do. Together, we excel in delivering amazing ingredients from the earth, and ocean, to your plate.
Enjoy our beautiful floating restaurant with a cold beverage, glass of wine, or a special cocktail from our bartender, while choosing a few options from the seasonally changing menu.
Sustainability
Leave Nothing But Footprints
Caring for the natural environment is of utmost importance in our presence as a resort operation. We maintain the highest standards of respect for the area, as the very balance of the ecosystem lies in the forests, water, and wildlife here. Clayoquot Sound provides endless opportunities for learning––nature is a great teacher, and we are always eager to listen and learn. The area holds many protected parks and ecological reserves; many now understand the need to protect and enhance the great diversity of Clayoquot Sound. It's a responsibility we are honored to have; we cherish this land.