Release Your Sense Of Adventure
Inside all of us, there is a buried wanderlust, a need to explore paths yet unknown. The thrill of finding one's way forward, to new sites, adventures, encounters: these heart-pounding moments are what make us feel truly alive. Come. Let us show you where the sky meets the sea, where hidden beauty stirs the soul.
Explore
the Surroundings
By foot, boat, canoe, kayak, plane, or helicopter, the opportunities for exploration are limitless, either guided or on your own. The trails and boardwalks that surround the lakes and river banks are easy forays into beauty, leading you to waterfalls, sunlit swimming holes, and pathways into the ancient old growth forest.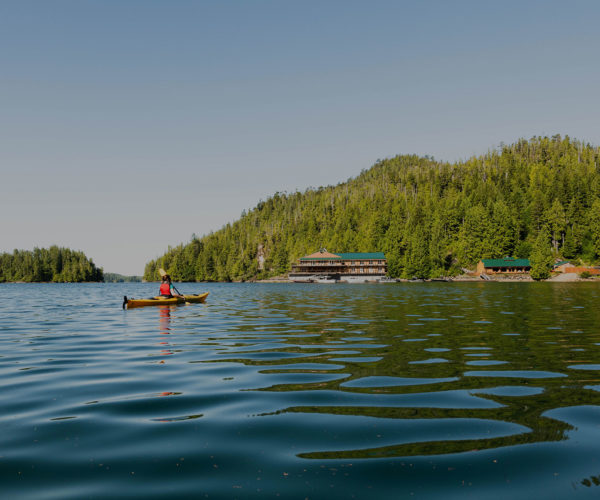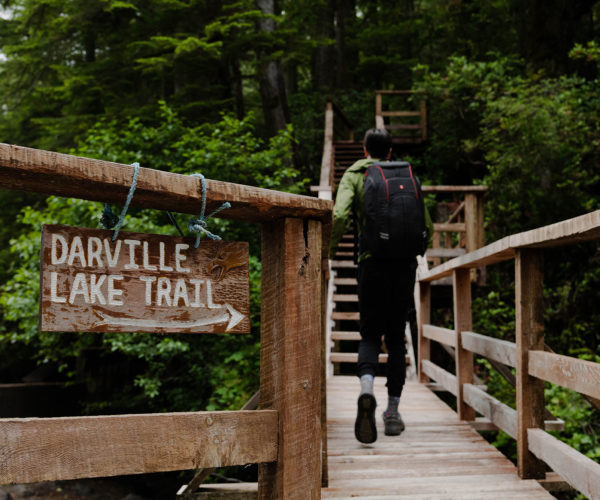 Activities
& Adventures
Take a rowboat, canoe, kayak or paddleboard out on the bountiful resort lake or seek the calm waters of the vast Pacific playground, discovering islands, coves, and secret fishing spots. For those who bask in the contemplative art of fishing: salmon, cod, halibut, trout, and steelhead abound in the nearby rivers, lakes and ocean inlets. We provide gear and a guide for your ultimate fishing Zen.
The Wild Side Trail on Flores Island affords access to the untouched coastline and white sand Pacific coast beaches. Hikers in need of a more vertical challenge can take looping trails to the top of nearby mountains (like Lone Cone Mountain). Try the Heli-hiking alpine experience, or kick back and observe the natural beauty from above by float plane or helicopter––it's as close as it gets to a birds-eye view!
Bring a zoom lens and a can-do attitude: the coastal beauty here is stunning. With so many spontaneous wildlife sightings, you're sure to capture those cherished nature shots.
Birds, Bees, and Bears
Wildlife Viewing
From the smallest of interesting insects to the larger apex predators, Clayoquot sound affords access to all kinds of fascinating wildlife. Home to a diverse and abundant species of birds, eagles, herons, ravens, hawks, ducks, mergansers, dippers, hummingbirds, jays, loons, and osprey all grace us with their presence. Did we mention wolves? Always a beautiful encounter, reciprocating their assessing gaze. And of course, Black Bears. Safely watching these magnificent creatures feeding along the shoreline and in the nearby rivers during salmon spawning season is a thrill!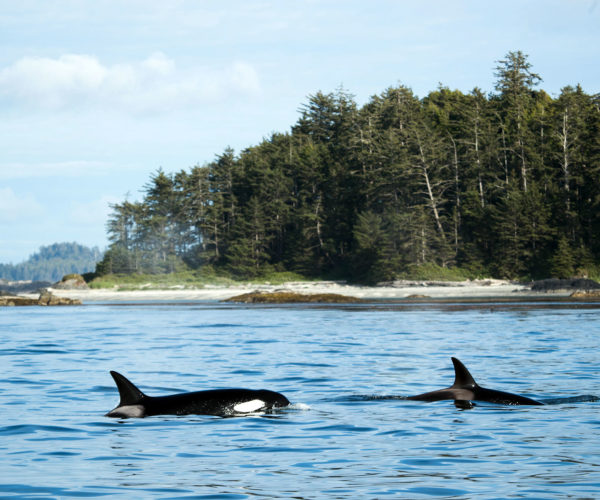 Whales
& Other Marine Life
Killer whales have a trick for viewing the world discreetly: the spy hop. A quick poke out of the water––they've seen what they need. We follow their lead, visiting without intrusion, respecting the boundaries of all. Clayoquot Sound is on the migratory route for thousands of gray and humpback whales each year, not to mention Orcas, dolphins, porpoises, sea lions, seals, and the ever-endearing sea otters. There's just no telling what kind of gentle giants you might see!
Rest & Relaxation
Just breathing the fresh air here will slow the heart and still the mind. Drink it in – your body needs relaxation. How would you like it? By a fire, with games and great company, or perusing a book from the library? Or take a glass of wine out on the deck; listen to the trees. Try the on-deck hot tub overlooking Quait Bay for a long soak, or take a dip in the natural waterfall-fed pool. Kick back in the lounge or dining room with a cocktail. Or go for it– unwind with a massage at the shoreline spa. Treat yourself to the many ways to relax here in our secluded bay.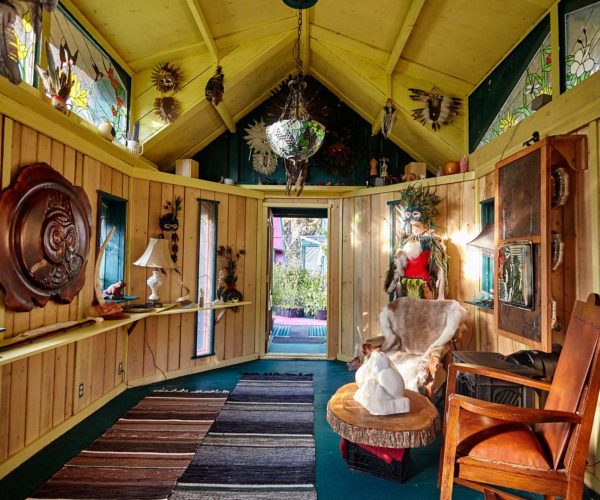 Freedom Cove
Floating Gardens
Pay a visit to the locals: Freedom Cove gardens and the floating artists' studios are world renowned immersive expeditions.
Freedom Cove is aptly named: this hidden pocket of human ingenuity delights all who visit. Catherine King and Wayne Adams have fashioned their vision for a floating artists sanctuary and glorious garden from love and admiration for the beauty of Clayoquot Sound. The hues that decorate the wooden buildings and walkways wouldn't be out of place in the Caribbean––they are a magenta and green welcome to this fantasy world. Catherine and Wayne have taken up residence here for twenty seven years, living their dream and following their artistic pursuits. They carve delicate sculptural pieces, and Catherine also crafts a living path of plants to peruse. The whole project lives and breathes creativity. Visit the many buildings and travel the winding walkways; be inspired by what is possible so far off the grid!
Photos courtesy of Aaron Mason